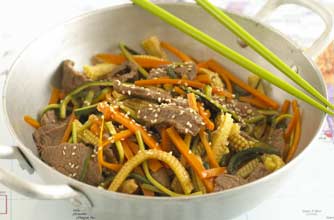 Annabel Karmel's Sesame Beef Stir-fry
Another winning recipe from the great little recipe book 100 Family meals, by Annabel Karmel. All her recipes are geared towards children so I know they are usually fail safe with my 3 very different eaters, (picky middle child loves stir fries).
Ingredients
1tbsp sesame oil
1 clove garlic, crushed
1 medium carrot cut into matchsticks
100g (4oz) baby sweetcorn cut into quarters
1 courgette (approx 100g/4oz) cut into matchsticks
300g (10oz) beef fillet or rump steak , cut into very fine strips
1tbsp cornflour
150ml (5fl oz) beef stock
2tbsp dark brown sugar
2tbsp soy sauce
Few drops Tabasco sauce
1tbsp sesame seeds
400g long grain rice (brown if you can get the kids to eat it!)
Method
Heat the sesame oil in a wok and stir fry the garlic, carrots, sweetcorn and courgette for 3 to 4 mins. Add the beef and continue to stir fry for 4-5 mins.
Mix the cornflour together with a tablespoon of water and stir into the beef stock. Stir this into the pan together with the sugar, soy sauce, Tabasco and sesame seeds.
Bring to the simmer, cook until slightly thickened and serve with rice.
Click here to buy Annabel's book