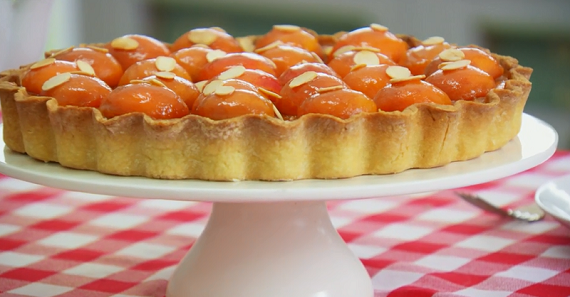 This is one of my favourite desserts, the combination of slightly tart apricots and sweet almonds is gorgeous. It's also incredibly easy to make- with the cheat's version of ready made dessert pastry! In the summer you could use fresh apricots but I think tinned apricots work just as well, they are the only tinned fruit I like.
Apricot and Almond tart:
1 pack sweet dessert pastry (Sainsbury's)
100g butter
100g caster sugar
100g ground almonds
50g flour
2 eggs, beaten
1 tin apricot halves
This tart is so easy to make!
Line a fluted dish with the pastry (roll it out first if it is in a block), you may not need to use it all. Blind bake the pastry by lining with greaseproof paper and adding baking beans (or any dried beans) to weigh down the pastry and prevent it bubbling up. Place in the oven and bake for 10 minutes then remove the beans and bake for a further 10 minutes until lightly browned.
Combine the butter and sugar then add the almonds, flour and beaten eggs. Pour into the pastry tart.
Press the apricot halves into the almond mixture and top with flaked almonds. Bake in a medium oven (170c) for 40 mins until firm and set.
Serve warm with creme fraiche.
You can vary the fruit if you like, cherries work very well, as do apples. Do you have a favourite tart recipe?