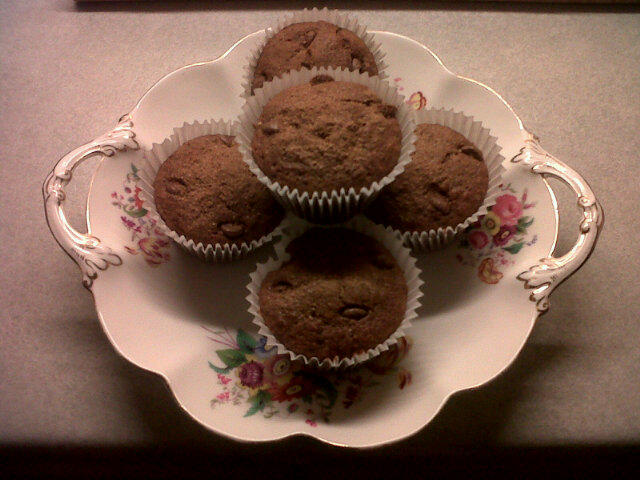 A great recipe for a breakfast muffin, packed with bananas and cinnamon, they are low GI and delicious! This is another recipe from Annabel Karmel's great 100 Family Meals, rapidly becoming a favourite recipe book!
Banana and Cinnamon Muffins
Ingredients
75ml sunflower oil
100g light muscovado sugar
250g ripe bananas
1 medium egg
140g plain flour
20g wholemeal flour
1/2tsp salt, 1/2tsp bicarbonate of soda, 1/2tbsp ground cinnamon
3tbsp very hot water
75g raisins (optional, I substituted some choc chips 'cos picky middle child won't eat raisins!)
3tsp brown sugar & cinnamon for topping
Preheat oven to 180c and line a muffin tin with 8 paper cases (I used 12 smaller ones).
Mix together the oil and sugar, add the mashed bananas and egg and mix thoroughly.
Sift the flours, salt, bicarb and cinnamon into a bowl, (add back in the sieved bits from the wholemeal flour). Add half the flour mixture, mix well, then add the hot water, mix again and finally add the remaining flour. Divide the mixture between the paper cases.
Bake for 25-30 mins until well risen and the tops spring back when pressed. Transfer to a wire rack to cool and sprinkle with the sugar mixture.
Enjoy!
Bananas are full of potassium which is great for regulating blood pressure and protecting the cardiovascular system from heart attack and stroke. They also contain fructooligosaccharides which are prebiotics that encourage more friendly bacteria in the gut. Plus bananas provide tryptophan, serotonin and norepinephrine, which help prevent depression while encouraging feelings of well-being and relaxation. In addition, the vitamin B6 in bananas helps protect against sleeplessness, mood swings and irritability.
Cinnamon has been proven to stop the insulin spikes generated by sugar which could be helpful in diabetic or pre-diabetic people