Good design is about making the most out of the space you have in your home. This is where architects can be invaluable (especially ones like the gorgeous George Clarke who can make every inch work for you!). Not all of us can afford to employ an architect, but that doesn't mean we can't employ clever design ideas. The brilliant Houzz website is a fantastic source of ideas and I have collected some for my Ideabook: Clever Spaces. Here are a few of those ideas:-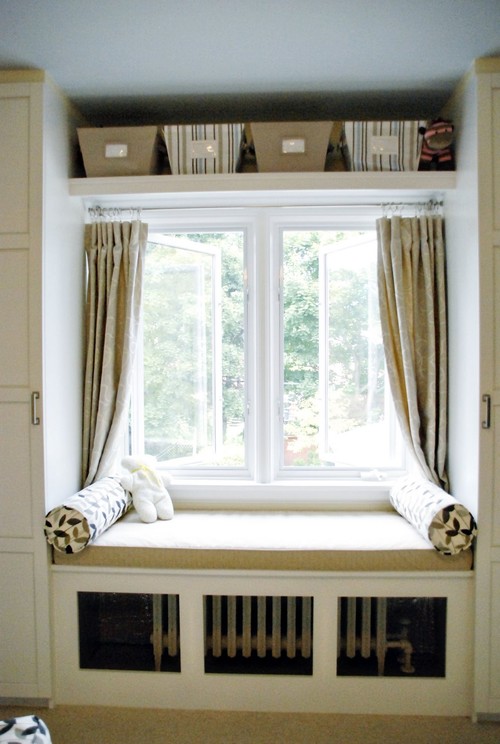 A radiator under a window generally means the area cannot be used for anything else, but here a window seat has been built over the top and a shelf above the window added. The shelf could even house books to make a lovely reading nook.
~
Using the inside of cupboard doors can double the space available; here a kitchen cupboard has been turned into a bar. This would work equally well as a space to house a pantry or a baking/food preparation area.
~
Small space living is about clever design and modern spaces demand this more than ever, nowhere more so than in New York. Architect Michael Chen has created a very clever dual purpose hallway. The unit extended provides a dining space, but cleverly slides shut to create more space, click the image to see the smaller space.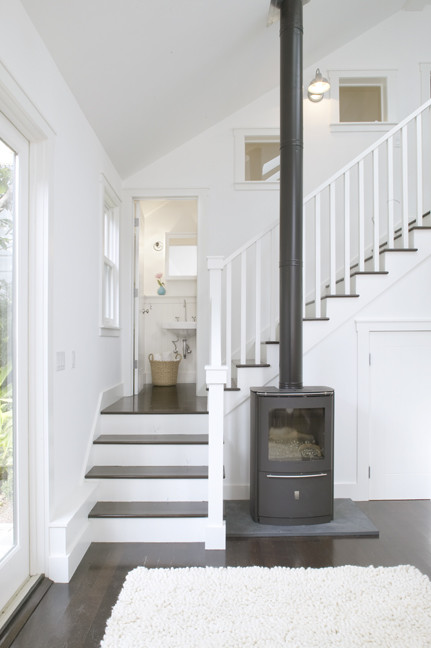 Think you've got no room for a wood burning stove? This photo shows that you can always find a space somewhere! A stove placed in an entry way is a great way to heat a large space.
Modular furniture can make your space more flexible and work much harder than an ordinary sofa. At first glance this appears to be 4 chairs, but they are in fact 4 pieces which can work together to make any size sofa depending on what the room is to be used for.
~
Instead of bunk beds sleeping 2 people, why not extend them to sleep 4? Or even make the bottom bunks doubles. For occasional guests this is perfect.
~
If you have high ceilings, use them! A ladder on a rail makes this space accessible at all times, which is often the problem with high level cupboards, it looks great too!
~
~
Do you have any clever design ideas of your own? For more information, take a look at my
Ideabooks on Houzz
.