Menu:
Smoked Mackerel Pate
Roast Lamb with Garlic, Bay and Lemon
Apricot and Almond Tart
~
Smoked Mackerel Pate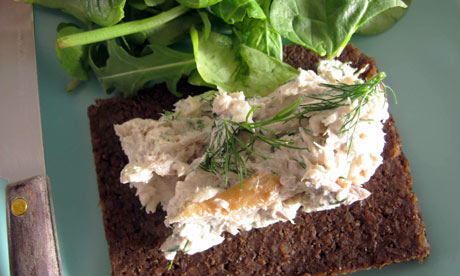 Smoked Mackerel Pate:
4 Hot Smoked Mackerel fillets (skinless)
150g creme fraiche
150g cream cheese
Squeeze of lemon
Seasoning
 Put all the ingredients into a food processor or blender and combine, season to taste. You could add some horseradish or herbs for extra flavour. Serve with thinly cut brown or rye toast and butter.
~
Roast Lamb with Garlic,Bay and Lemon

Roast Lamb with Garlic, Bay and Lemon
Ingredients:
1.6kg leg of lamb
3 garlic cloves, halved plus 2 garlic bulbs
3 lemons
8 bay leaves
60ml (1/4 cup) olive oil
1kg potatoes, halved
20g butter
2 tbs shredded fresh parsley
300g frozen petits pois (cooked)
Heat the oven to 200C/fan 180C/gas 6. Put the lamb on a board, rub a little olive oil all over the surface and season well. Pierce the skin 20 times with a small, sharp knife to make incisions about 2cm deep. Peel the garlic cloves and quarter them lengthways, pulling out any green bits. Peel some thick strips of zest off 1 of the lemons and cut them into 20 smaller strips, small enough to stuff into the incisions. Cut 4 of the bay leaves into similarly sized pieces. Push a piece of bay, a strip of lemon and a quarter piece of garlic into each incision.
Put the lamb in a roasting tin, halve the garlic bulbs and put them beside the lamb. Quarter the remaining 2 lemons and put them beside the garlic. Add the potatoes, season around the lamb and tuck in the remaining bay leaves. Squeeze the juice from the zested lemon over the lamb and potatoes and add a good drizzle of olive oil.
Roast for 1 hour 15 minutes for medium rare, 1 hour 30 minutes for medium and 1 hour 45 minutes for medium/well done. Rest for1/2 hour before carving. Lift the garlic and lemon out of the tin, then stir the parsley into the potatoes. Arrange everything on a platter to serve. Serve with the peas.
~
Apricot and Almond Tart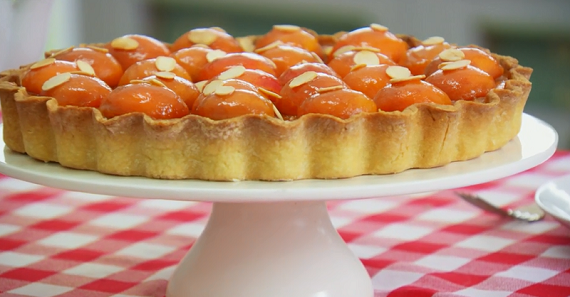 Apricot and Almond Tart:
1 pack sweet dessert pastry (Sainsbury's)
100g butter
100g caster sugar
100g ground almonds
50g flour
2 eggs, beaten
1 tin apricot halves
This tart is so easy to make!
Line a fluted dish with the pastry, you may not need it all.
Combine the butter and sugar then add the almonds, flour and beaten eggs. Pour into the pastry tart.
Press the apricot halves into the almond mixture and top with flaked almonds. Bake in a medium oven (170c) for 50 mins until firm and set.
Serve warm with creme fraiche.