It seems like every year I am on a mission to find the most flattering swimwear, I start with bikinis, hoping that I have done enough (eat less, move more!) to look good. This generally ends in frustration in the changing rooms as lumps and bumps spill over the edges, particularly the bottoms! And so I end up trying on tankinis and generally find one which will work; I like the fact that you can pull the top up to get your tummy brown, then pull it down to cover that area whilst walking around or swimming. A win win situation!
Last year, on holiday, I decided to do a bit of visual market research into swim wear and which styles are the most flattering. You see all shapes and sizes on the beach, but it's not necessarily the skinny girls who look best!  This post is the result of that research.
There are a few simple tips you can follow which will help you to look good on the beach:
Go for details, a plain black swim suit is not always the best choice. Ruching, a cut out or key hole back, ruffles and frills, sequins and sparkle. All these can draw the eye making any lumps and bumps less obvious.
Choose a Print, a small all over print is often more flattering than a plain colour as it helps to disguise problem areas. The eye is fooled by the print as it is more difficult to see any rolls, giving the illusion of a flat surface.
Add padding, to enhance a small bust, there are plenty of styles out there which can boost your assets!
Highlight your best bits, by choosing a design which emphasises what you like about your body. For example, a deep V or halter neck will make the most of your bust. If you have a tiny waist then a bikini or one piece with deep cut out sides works well. Great legs should be showcased with a high cut design.
Accessorise! Never underestimate the power of beautiful accessories; a huge floppy hat, oversized shades, a fabulous beach bag, a sheer sarong. The right choices will create a streamlined outfit which pulls your whole look together.
Below are my picks from the high street and online, which hopefully illustrate the points made above and will help you to find the most flattering swimwear for your body!
F&F at Tesco's
Hibiscus swimsuit £12.00. A bargain price for a very flattering piece, the frill around the bust disguises any unsightly overhang and it is lightly padded for support. The cut-out back is an unusual detail normally seen on much more expensive items. The all over floral pattern  is brilliant for disguising lumps and bumps.
This Hot Honi floral swimsuit is an online exclusive and costs £18.00, it features underwired cups for support, three button detail, and a flared skirt design for a feminine finish. Wear this retro style printed swimsuit with a floppy beach hat and oversized sunglasses. The pretty pale blue background and red print also flatters curves and has adjustable straps for comfort.
Lands' End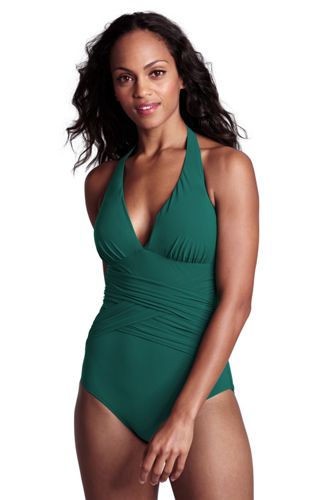 Lands' End has some great figure flattering styles and this one combines 2 top tips. Firstly, the halter neck style emphasises the bust while providing support; secondly, the clever ruching on the waist draws the tummy in from each side to create a great waistline. At £69.95 it's not a cheap option but it's really good quality and has good reviews on the website. (There's 25% off using the code MAY25FF).
Marks and Spencer
A lovely ruched tankini top £19.50 and contrasting bottoms £14.00 (Top Tip- the tie sides allow you to create the right size without digging into the flesh).
Debenhams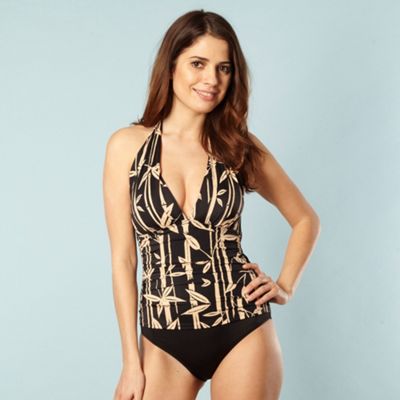 This is an extremely flattering swim suit which you need to see in close up to appreciate the detail. It could easily be worn in a restaurant with a black skirt or sarong over the top and has a 5 star review rating. There is currently 20% off making it a very good buy at £28.00.
George at Asda
A lovely neon pink bikini with well placed ruffles to disguise the tops of the legs and bust, an absolute bargain at £8.00 for the top and £4.00 for the bottoms.
An eye-catching design with a key hole front and a photo print which cleverly creates the illusion of a waist, only £12.00!
A lovely floral sarong (£4.00) which has a matching bikini (£12.00)  if you dare to bare! At only £16.00 for the lot this is an absolute steal; the sarong would also work really well with plain black swim wear and accessories.
For some great looking beach accessories to go with your new swimwear, why not head over to Pinterest to see my board on Beach Accessories?