I absolutely love Swedish style, it's always been on my radar. For years I have admired various aspects and then I was lucky enough to go to Stockholm for the weekend. I was completely blown away by what I saw and spent the whole time in raptures and squealing with delight (much to my husband's embarrassment!). The combination of old and new was exquisite; beautiful, original, old features provided a unique backdrop for the ultra modern but also very simple new. I have never been anywhere else in the world that does this so well. (Holland comes close but that's another story…)
Eclectic Living Room design by London Interior Designer swedish interior design
Gustavian (c 1770-1785)
I have loved the Gustavian style for years, it's actually a fusion of many styles: in the 17th and 18th centuries, the Swedish Aristocracy took design aspects from a variety of European courts – mainly Italy, France and England. The items King Gustav III imported during his reign (from 1775-1792), resulted in the Gustavian style, a look which continues to be popular to this day.
Empire (c1810-1830)
Again a strong French influence on Swedish design. The French 'Empire' style came to prominence in Sweden when King Carl XIV Johan came to the throne (he was actually French and had been one of Napoleon's generals).The Empire style draws on Roman Antiquity for inspiration but has a much more  linear and structured feel to it. Unlike Gustavian pieces, it also introduced the use of a newly dark and polished wood – Mahogany – and featured intricate inlays and carvings.
Carl Johan / Biedermeier (c1820-1850)
This style came about as a response to the middle classes who wanted an affordable and structured version of the grander Empire style. It combines a stripped down vision of the Empire style using a much less ornate vision that was also more sturdy and practical. It also incorporated elements of the current trends in German and Danish furniture and used locally available woods such as golden birch, alder and elm.
It was simple and elegant with just a hint of the grandness of its forebears and remained popular throughout the 1800s.
In the late 1800s, the artists Carl and Karin Larsson combined classical influences with warmer Swedish folk styles. They created a model of Swedish home furnishing design that today enjoys worldwide renown. The classic simple lines and embroidery from this period still survive and Ikea uses many of the original designs today.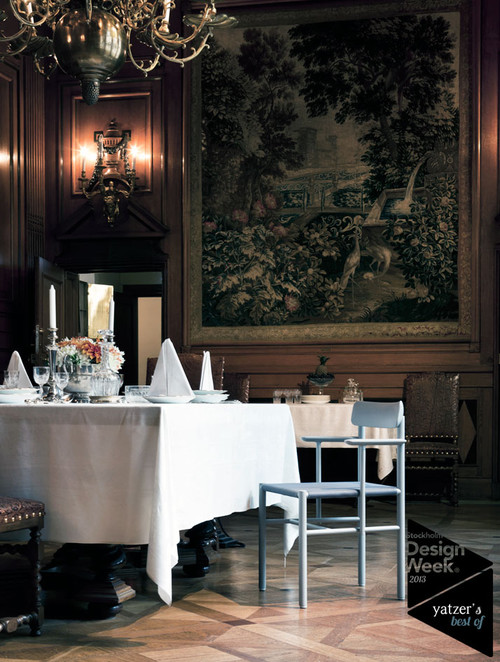 Modern Swedish design is world famous for its ingenuity and  forward thinking ideas whilst also staying true to classic, simple lines. For a look at Swedish style through the ages plus the latest designs from the 2013 Stockholm Furniture and Light fair, please go to my Houzz ideabook "Swedish Style".