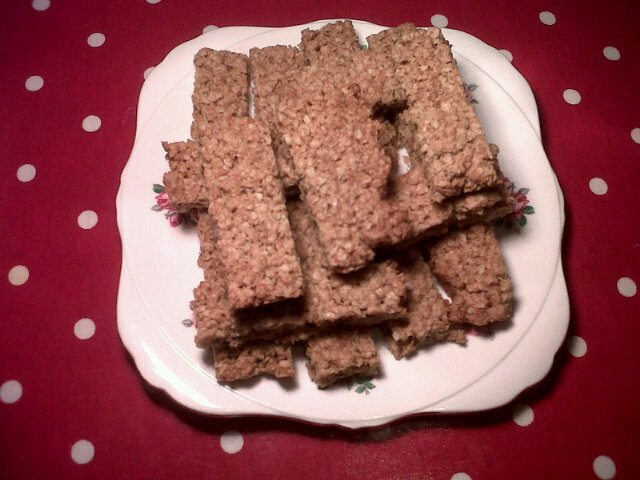 Homemade snacks
Sometimes it's almost easier to make your own snacks than it is to go out and buy them, plus it's cheaper!
The added bonus of course is that you know exactly what has gone into them and where kids are concerned that's important.
First up, is an old favourite- flapjacks, who doesn't like a homemade flapjack? The basic version can be jazzed up with chocolate, raisins, cranberries, mars bars (!) anything you fancy!
Flapjacks
Ingredients (makes approx 24)
200g butter/marg
150g brown sugar
3tbsp syrup
450g oats
Put butter, sugar and syrup in a pan and heat until melted then add the oats. Spread the mixture on a baking tray and bake at 180c (160 fan) for 30 mins. Leave to cool and cut into 24 fingers. They will keep for up to a week in an airtight container.
~

Second is my favourite because I love chocolate!
Chocolate Krispie Cakes (makes 12)
150g milk chocolate
150g rice krispies or cereal of your choice, you may need to add less/more
Melt the chocolate either over a hot water bath or in the microwave (be careful not to overheat), add the krispies and stir to combine. Put into cake cases and leave to cool.
How simple is that? I'll be adding more as and when I make something, see the recipe for banana and cinnamon muffins for an alternative.
What snacks do you like to make?