I have fallen in love with traditional larder cupboards! They are so practical but absolutely gorgeous, a great addition to any kitchen.
I have been looking at various designs for a while now and on this page are some of my favourites. They can vary a lot in price but that's good because there really is one to suit all budgets, plus I will be showing you an idea to revamp one of your existing cupboards to create your own larder cupboard.
Traditionally the larder or pantry was a cool room filled with narrow shelves to hold produce, tins, dried goods and (before refrigerators) cooked/uncooked food. The design meant that everything was within easy reach as the top shelves would hold items only one deep and the lower shelves could be used for larger items or cake tins etc.
The modern larder cupboard follows the same principles of having all items within eyesight and easy reach but they can have a variety of uses. Some people use them for baking to hold ingredients, electric mixers, food processors etc. Others use them more traditionally for all their tins and dried goods. They could also be used as an independent station for breakfast holding bread, cereals, toaster, even the kettle! (but only boil with the doors open!).
I love the Dormy House design above and it is a very good price (currently £460.00 unfinished or £565.00 painted ivory).
Also on my radar are this one from Marks and Spencer:
 £1,499.00 It has a massive amount of space.
On Ebay I found a great company (coachhousepine) which will hand make larder cupboards to order, these can be made to your own specifications to fit any space, they will also paint your cupboard in a Farrow and Ball colour of your choice. The cost is £1,075.00.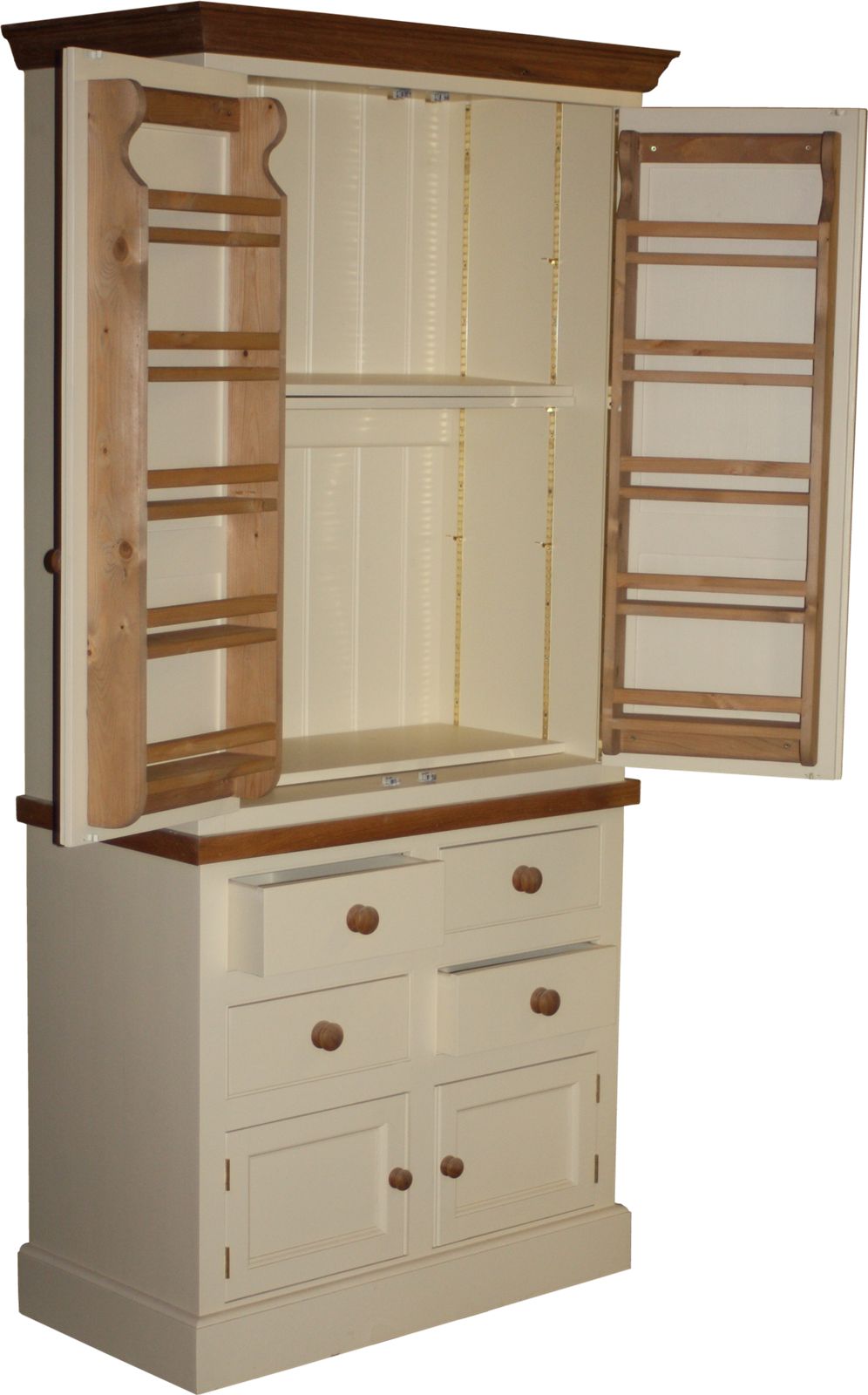 Finally, if you don't have the budget, why not try adapting an existing cupboard or wardrobe to your own design?
Start with adapting the inside. If there is a top shelf then take this out and keep for later, leave the hanging rail as this can take S hooks to hang implements or baskets.
Ikea have some great interior storage ideas. I would attach 3 or4 Bekvam wooden spice holders to the doors and maybe some Bygel rails and hooks.
A Tarva chest of drawers
could sit at the bottom for storage and underneath you could place this great wine rack or 2 if the space allows:
Finally, the shelf that you saved from before could be placed on top of the chest of drawers giving the whole cupboard a streamlined look. If your cupboard is wooden then consider painting just the outside, or paint inside and out including all the wooden items suggested here for a streamlined look. Fabulous!
Do you have any other ideas to share?